Freshen

Up!
A public shower facility right next door.
Come shower, freshen up and relax during those long layover periods.
Visit
LMD

Wrapping
A mobile wrapping unit in the Airport's International Terminal
We move our services closer to you.
Visit
Services
Convient products to better serve you.
From carry on lugguage to travel size toiletry items and undergarments.
Visit
About Airport Travel Agency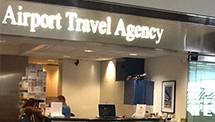 Airport Travel Agency has been in business at San Francisco International Airport since 1987. We are a full-service travel agency and provide business-center type services such as notary, faxing, photocopying and passport
photos. Our shipping services help travelers get oversize bags and restricted items to their next destination. We have offered baggage wrapping since 1996 and recently expanded this service under our affiliated company...
Read more
Test

imonial
"Wesley Hubbard is an exemplary representative of your store…"
"Carol & Linard were more than helpful…"
"Linard Davis is the best thing that happened to me today. He was courteous, professional, and extremely helpful."